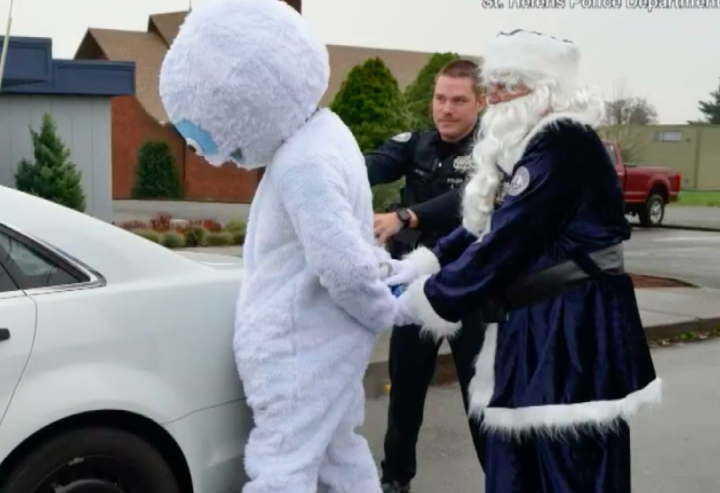 This arrest was definitely a cold case. The abominable snowman was charged this week with driving under the influence in St. Helens, Oregon ― and the arresting officer was none other than Officer Santa Claus.
The town kicked off its holiday crackdown on impaired drivers with a press release detailing Monday's fake arrest. Dispatchers received calls of a driver swerving between lanes and sideswiping a parked vehicle, according to the statement, and the driver, Abominable T. Snowman, was charged with DUI and reckless driving.
The snow-loving Snowman had a blood-alcohol level of 0.16 percent ― twice the legal limit in Oregon, according to St. Helens Police Chief Terry Moss.
"We later learned that peppermint [schnapps] was the beverage of choice," Moss told InsideEdition.com. "Nevertheless, he was treated like anybody else who receives a DUI in St. Helens, and he was lodged into the jail."
Snowman pleaded guilty to the charge during his first court appearance Wednesday afternoon. He didn't comment on the charges.
Insiders said Snowman had been distraught since a study released last month suggesting that Yetis are not an as-yet undiscovered species, but are just big Asian bears.