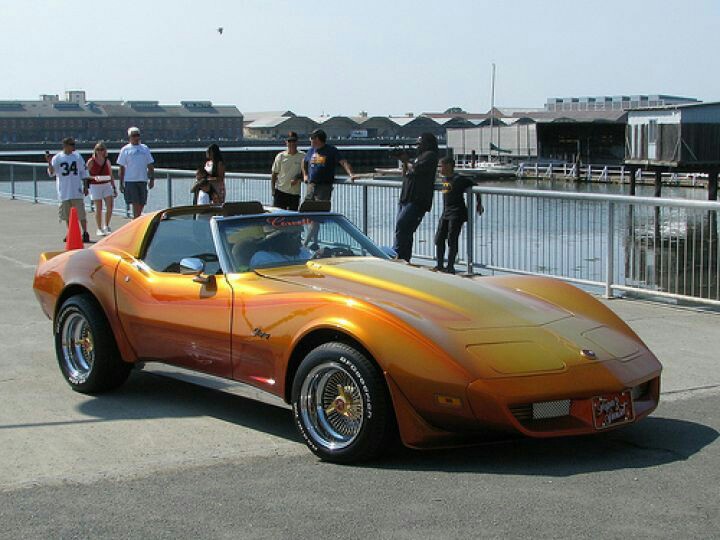 1975 Corvette Base
In 1974 it was still possible to get a Corvette with a big block, 270-hp, "LS4" 454-cubic-inch V8. And even the base 350-cubic-inch (5.7-liter) small-block V8 was still gross rated at 250 hp. But when the 1975 Corvette came along, the big block was gone and the base "ZQ3" 350 had lost a half point of compression and gained a catalytic converter, which dropped its output to a paltry 165 hp.
That's right. Most 1975 Corvettes had engines that made only 165 hp. That's 32 less than the base 2.5-liter four in a 2013 Malibu sedan. It's only 15 hp more than the Blue Flame six in the '53 Corvette — and the '53 Corvette was 827 pounds lighter.
Car and Driver ran the '75 Corvette off against the ignoble Bricklin SV1 in its May 1975 issue and found Chevy's plastic car with the base 350 and three-speed automatic transmission took a brutal 7.7 seconds to waltz from zero to 60 mph and needed 16.1 seconds to run the quarter-mile at a lugubrious 87.4 mph. Slow. Slow. Slow. At least the Bricklin was even slower.
Yes, there was an upgraded L82 engine option in '75, but it didn't enter production until deep into the model year and was strangled by an exhaust system that used a single catalytic converter. So even the L82 version of the 350 was rated at a miserable 205 hp — down 35 from '74 (net rating to net rating).
This is the Corvette at its lowest and yet Chevy managed to sell 38,665 of them anyhow. That's 1,164 more than it did of the '74 and, up until that time, the most Corvettes Chevy had ever sold during a model year. Go figure.