Here's a brief description, with a more detailed description below. Metallic Blue w/pearl white coves, black leather interior; 350 Edelbrock, polished aluminum, dual-quad, roller crate motor, 700R4 automatic transmission w/overdrive, power rack & pinion steering, power (front disc, rear drum) brakes; AM/FM/CD stereo w/amplifier & 8 speakers; A/C, cruise control, 2 tops.
This car has won many 1st place awards including several "Best of Show" & two 1st places "Best in Class" at the Forest Grove (Oregon) Concourse d'Elegance. Sale includes restoration pictures & receipts, car cover, original hard top & headlight bezels (all painted car color, but never installed), hardtop hoist/lift, extra serpentine belt, 5/26/2017 appraisal.
Custom-ordered Edelbrock 350 cid, 363hp Chevrolet polished aluminum crate engine, dual-quad carburetors – 500 cfm Thunder AVS (1 electric choke, other manual), roller camshaft & lifters, polished straight-plug heads w/o EGR, polished C-26 Dual Quad intake manifold (uses oil filler boss at front of intake), MSD distributor & coil, serpentine belt pulley system includes polished aluminum: 1-wire alternator (upgraded from 105 amps to 140), water pump, power steering pump, Sanden AC compressor, power steering remote reserve headers – shorty, ram-horn, center dump – ceramic coated electric 'pull' fan w/adjustable thermostat.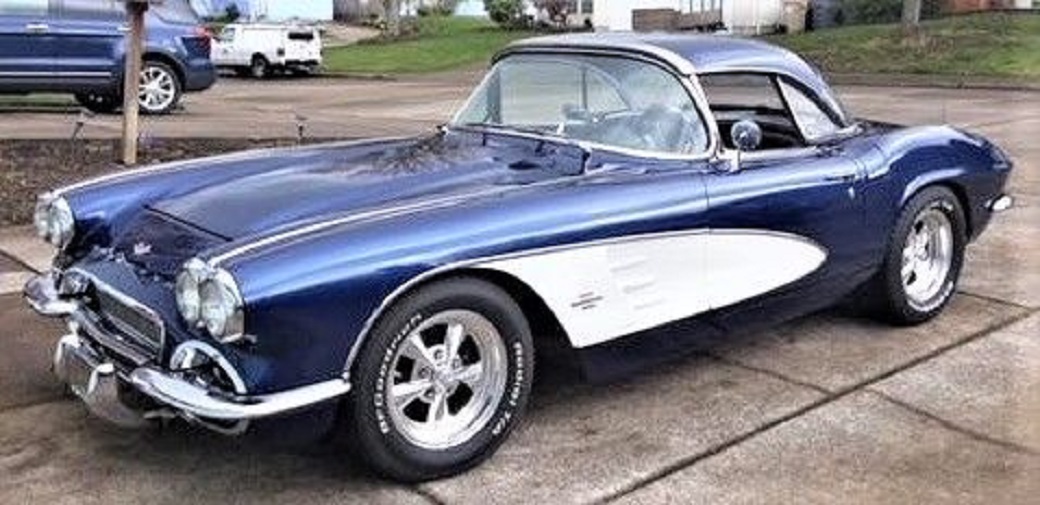 Independent Front Suspension (Jim Meyer Racing) includes: power rack & pinion steering, power (front) disc brakes, QA1 adjustable coil-over shocks, sway bar, power brake booster, dual master cylinder, Clean, degreased under carriage; frame sandblasted & sealed w/POR-15 (rust preventative coating), remaining undercarriage & wheel wells undercoated – 700R4 automatic (overdrive) transmission, transmission cooler & speedometer cable.  Rebuilt (3:73, open) rear-end, rear axles, rear brakes, rear anti sway bar. Fiberglass (mono) rear leaf springs & (Edelbrock IAS) 'self-adjusting' rear shocks – paint (metallic blue w/pearl white coves), over gel coated un-hit body w/all original body bonding strips/seams; both front fenders have a steel reinforcement strip on the underside of the stainless trim that runs down the top of each fender (standard in 1958, optional on other years) – carpet – two tone (aka., salt n' pepper) dark & medium blue, sound deadener & heat insulator – windshield & side glass – all tinted – weather-stripping – fuel tank & sending unit – fuel & brake lines
White stay-fast (aka., Hartzcloth) soft top & (painted 'body colored' blue, never installed) hard top – Alpine AM/FM/CD stereo with Alpine amplifier & 8 (Polk/MOMO) speakers (2 in dash, 2 in kick panels & 2 in each headrest), air conditioning, heater, defroster, cruise control, leather interior (Al Knoch, dash, door panels, seat covers, armrests, grab bar, shifter boot, deck lid hold-down straps), wiring & fuse block, all chrome re-chromed & stainless polished, new side mirrors – includes installing new passenger side mirror & relocating drivers mirror, windshield wiper system (intermittent), BF Goodrich (radial) tires & polished (Billet Specialties, billet aluminum) 5-spoke rims, All gauges restored – ammeter converted to Voltmeter, oil pressure converted from 60psi to 80psi, new quartz clock – Carpeted trunk w/Alpine amplifier & tail-light protector cones (x4).
Many 1st place awards including several "Best of Show" & two 1st place "Best in Class" at Forest Grove Concourse d'Elegance.
Please follow and like us: