Sunny afternoon beach side view of this classic Venetian Red with Shoreline Beige Coves 1957 Chevrolet Corvette Convertible
Please feel free to ask questions and request more photos by contacting me at: (808) 460-0761 or [email protected]. Details Below
Wonderful sunny afternoon countryside view of this classic red and white C1 1957 Chevrolet Corvette Convertible.
1957 Corvette. Here's the details of the car:

– 283ci Hi-Lift cam engine (3731548 block stamped F409EL date casting A117)
– Correct heads (3731539 ser#s B137 andB127 – Feb 12/13 of 1957)
– Freshly rebuilt 4360 Rochester Fuel Injection unit (serial 1508 – completed last year from Jerry Bramlett).
– T-10 four speed transmission (Housing tag 3-20, stamped WD1172. Tail marked T10-7WG div). Correct 9 bolt scalloped cover. Newly restored stock shifter.
– 3.70 Posi rear. (casting B127 and3743833 GM X 1 with pacman tag stamped AN4 29)
– Wonderbar radio. Functions perfectly.
– Courtesy lights, functions wonderfully although the fixtures are reproductions
– New forward wire harness (LectricLimited)
– "Genernator" rebuilt 30A generator completed restoration last year
– Solid state rebuild voltage regulator
– All correct gauges. Clock, ammeter, fuel gauge, oil pressure and temperature gauges are all freshly restored. Speedometer and tachometer are in great condition and work properly. Cigarette light does work(although it is unused).
– Venetian Red with Shoreline Beige coves.
– Heater and defroster functions perfectly.
– Turn signals work correctly and auto-cancel properly.
– Headlight switch and dimmer function correctly.
– Emergency brake warning light. Functions correctly and is all original,including flasher unit.
– Coker classic whitewall radial tires – very little use. Still has the little rubber "fingers". Made to look like bias ply originals with the safety and drive-ability of modern tires.
– 15″ reproduction steering wheel installed (for ease of entry/exit). I have the original *pristine* 17″ steering wheel that I will provide to the new owner.
– Odometer reads 8683. I was told it was zeroed when the car was fully restored – likely this isn't the actual mileage.
The paint is in good condition, although there are some imperfections. The sun and my iphone camera makes the paint look more red than reality. The paint is more orange (true Venetian Red) and matches the seats and engine block color. I have additional photos if you would like to see – just shoot me an email or give me a call and I'll send them right out to you. The carpet is in fair condition. The car runs excellent, although I do use non-ethanol gas only (we cannot get race gas in Hawaii). I have installed a custom fan for cooling the FI spider, which can be removed in less than 10 minutes and restored to completely stock with the original fresh air duct that I will provide. This system works great in Hawaii and I never have percolation issues with this installed (not even a rough idle in traffic). The windows do crank up and down, although stiffly. I have a Hurst shifter for the car that I never got around to installing. If you would like it, I'm sure we can work something out. As you can see, the frame is both mechanically and cosmetically excellent. The car does come with a cover, although it isn't the best one on the market. It will keep the dust off. I removed the shields from the ignition system. They are all in excellent condition and will be provided to the new owner (removed for ease of maintenance and to prevent spark wire chafing).
I'm sure there's something I've left out – please feel free to ask questions and request more photos by contacting me at: (808) 460-0761 or [email protected]. I have over three hundred detailed photos (all taken 23 March 2022) – eBay only allows so many. Just let me know what you'd like to see and I'll send it right to you. If you'd like to Face Time or Skype the vehicle and see it run that can also be arranged. I'm happy to show how well this car looks and runs. This is a real auction for an excellent numbers-correct car. There are no shill bidders. There is a reasonable reserve – as I'm sure any serious buyer/collector would understand.
Shipping is at the buyers expense and convenience, although I will assist in the drop-off. When I brought this car from Georgia, it cost around $3000 to ship to Hawaii. I would imagine the shipping would be in that ball park, but things may have changed in the past two years.
Sunny afternoon view of this classic Ermine White C1 1958 Cheverlolet Corvette Convertible
This Ribeye steak was tender and flavorful, and is the epitome of what a steak should look and taste like. It was so juicy, had an excellent texture, and satisfied beyond belief.
Sunny afternoon view of this 1959 Corvette Restomod Frame Off V-8 4-Speed Street Rod 350 ZZ4 Crate Engine
Wonderful outdoor view of this classic blue C1 1961 Chevrolet Corvette Convertible.
Sunny afternoon view of this classic White C1 1958 Chevrolet Corvette.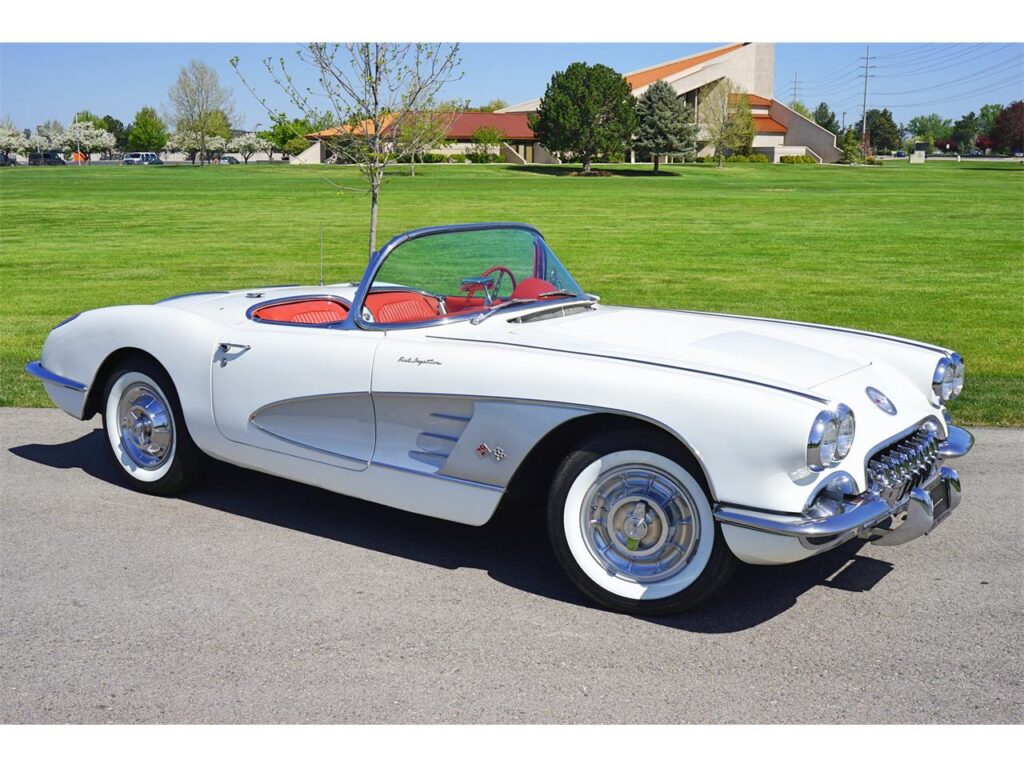 Sunny afternoon view of the classic Roman Red C1 1962 Chevrolet Corvette.