Seductive, voluptuous, hot, fast, flawed, sexy, modest beginnings, all-American, iconic, hits the big time in 1953, gone forever in the fall of '62, immortal, unforgettable. The Corvette and Marilyn Monroe entered my life on the very same day in August 1960, both unleashing a visceral response that my seven-year old body had never experienced before. Fifty-some years later, looking at my pictures of this Sexy Corvette, I suddenly made the obvious connection: the Corvette and Marilyn both represent that key moment in our personal and collective lives when innocence was lost.
Both had modest beginnings. Norma Jean Mortenson was the product of a broken and dysfunctional family in working class Los Angeles. The Corvette borrowed its frame, suspension, brakes, engine and Powerglide automatic from a 1953 Chevy sedan. Its "Blue Flame" six cylinder engine was an evolution of Chevy's first six that was probably conceived about the same time as Norma Jean was.
Both hampered by expedient but damaging early choices: the Corvette's feeble six teamed with the Powerglide and Marilyn's nude pictures; youthful making-do with their given assets, innocent of their latent potential. But Americans are a forgiving folk, and in 1953, Marilyn finally found the right vehicle as well as a new on-screen persona for success in Gentlemen Prefer Blondes, her first big hit.
And in 1955, the Corvette finally found its ability to seduce gentlemen who prefer V8s, thanks to Chevy's brilliant new small block. One learned to act, the other to fly; both now hit their stride, right into the hearts and pants of mid-fifties America.
The Corvette and Marilyn both first entered my life on the very same day: August 29, 1960, just two days after we arrived from Austria. I was completely innocent of the existence of either of them prior to that fateful day. I first laid eyes on the Corvette while on a sightseeing tour of Manhattan, which already had my senses buzzing. An Ermine White '57 was tooling down Park Avenue with its top down, alluring and seductive, and for the first time I experienced feelings that a car had never induced before. Up to then, my passion for cars had been strictly platonic.
That very evening, Marilyn gave me an encore of that feeling, with that inimitable seductive look of hers emanating from the pages of a Look magazine. I felt myself sucked into a vortex of a foreign world I didn't yet understand, but wanted to, badly. While the rest of my family struggled with the strange surroundings, a foreign language and jet lag, I was already head over heels in love with all things American, thanks to those two. America's unlimited possibilities grabbed me by the balls I barely knew I had.
The Corvette created its legend thanks to its most obvious assets: sexy looks and a red-hot V8. That engine's full potential was unleashed by its new performance coach Zora Arkus Duntov and his magic camshaft. In 1957, when the new 283 cubic inch engine was blessed with fuel injection, its 283 horses feeding through a new four-speed transmission and the right rear axle numbers vaulted the fiberglasstic 'Vette to untouchable performance: Zero to sixty in 5.7 seconds, and the quarter mile in 14.3 seconds at over 90 mph. Unbelievable numbers for a streetable and affordable production car; it would be a decade and another hundred cubic inches before they were bettered. The Corvette went racing, racking up an impressive record against the exotic semi-production European sports-racing cars. Once the Corvette was given the right parts, it became a credible and world-class competitor.
Marilyn discovered the Actor's Studio the same year that the 'Vette found its V8, and she broke through to new levels in her performances thanks to acting coach Paula Strasberg. They unleashed new levels in her performances, earning her a nomination for a Golden Globe that year for Bus Stop. Once dismissed as lightweights by Hollywood and the racing world, both were now firing on all their cylinders, thanks to the right parts and proper coaching.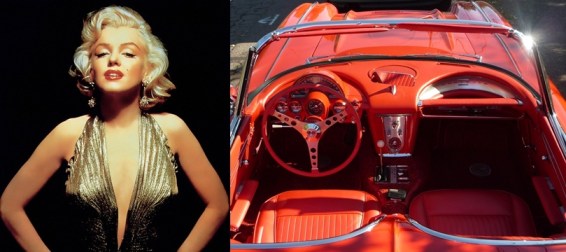 Although darlings of the moment, they both couldn't fully escape their intrinsic limitations. As stylish as the Corvette's cockpit may have been on the Motorama stands in 1952, when it came to actually living with one, its ergonomic shortcomings were all too obvious. That delicious big wheel was practically in your face, the instruments were more about looks than being intelligible, and the Corvette's ride, braking and real-world handling were anything but effortless. Their shortcomings demanded unconditional love and devotion.
Marilyn's temperament, insecurities and complexities were hardly the stuff of smooth rides and easy handling for the men in her life. Joe DiMaggio lasted a year before the bumps became unbearable; but he never quite got over her either. She got under men's skin, in both definitions of those words.
Although the Corvette was capable of winning races with the right parts and preparation, that's not to suggest that it was a world class sports car. Its crude underpinnings were hard to hide, even with that veneer of plastic fantastic. I spoke to a guy recently who bought a new Corvette in 1962, like this one, on a whim. He was heading to California from NY for a new job, and he figured he would treat himself for the drive cross the country,and recreate the Route 66 tv show with him in the leading role.
He said it was faster than stink, but he sold it as soon as he arrived in LA; the harsh ride, primitive handling, crappy brakes, and lack of creature comforts just didn't wear well with him. It was a short, intense, but exhausting fling, and he traded it in on…damn; I can't remember, but it was something from Europe, and it had a proper suspension, brakes and comfortable seats. Maybe even a Peugeot. But his eyes lit up as he remembered that wild trip in his Corvette.
It didn't take long for Marilyn to find a new hubby, Arthur Miller. Although it lasted longer, Marilyn's exhausting unpredictability, fits and intense mood swings made their marriage anything but a smooth ride. The Corvette and Marilyn extracted plenty of pain in exchange for their pleasures.
I was innocent of the Corvette's crude underpinnings when I first fell for it in 1960. A cart-axle rear end suspended from a pair of leaf springs and rum brakes were looking mighty primitive compared to the complex IRS rear ends that Mercedes and Jaguar were showing off under their skirts. Never mind their disc brakes and OHC engines.
My eyes began to wander; innocence is so easily lost. By 1962, it was impossible to deny that the Corvette was past its prime.
Bill Mitchell, that master plastic surgeon, gave the Corvette's drooping buttocks one of the finest lifts ever seen: a delightfully crisp new ass for 1961, borrowed from one of his shark-inspired concepts. It may have distracted the eyes from what was hidden beneath it, but that was the extent of it. despite the years, Marilyn's own rear was aging better, even without intervention.
That's not say everything was hunky-dory with Marilyn, by any stretch. A troubled beginning is hard to shake off, and she was much more intelligent, complex, and idealistic than her carefully-cultivated public persona might suggest. She was praised by actors and directors alike for her talents and comic genius. Marilyn was not the blond bimbo she played so perfectly. But she was trapped by her creation and the public's expectations.
Her last movie, "The Misfits", is a true gem, and in it she finally breaks out of her typecast to a considerable degree, and embodies the forces of social change that were just starting to swirl about. Marilyn and the Corvette were now parting ways. Her Misfits co-star, Clarke Gable, also in his last role, embodies the dying era of the rugged cowboy individualist, not unlike the rough and ready C1 Corvette.
Marilyn only barely got through the film's shooting. Drugs and alcohol didn't help. A visitor to the set later described Monroe as "mortally injured in some way." In her last interview, she said prophetically: "What the world really needs is a real feeling of kinship. Everybody: stars, laborers, Negroes, Jews, Arabs. We are all brothers … Please don't make me a joke. End the interview with what I really believe." Might sound a touch trite, but it's more true than ever today.
The Misfits is about the great change that was in the air, the end of the era still associated with cowboys, hunting and male patriarchy. Marilyn represented the future: idealistic, humanitarian, environmentally aware, and…feminine.
Obviously comparisons with cars ultimately only go so far. The Corvette was a machine, locked into its role by its creators. Marilyn was evolving, struggling to break free from the world that she came from and had used for her benefit. But it wasn't working for her anymore. The rift between her true self and her persona was becoming untenable.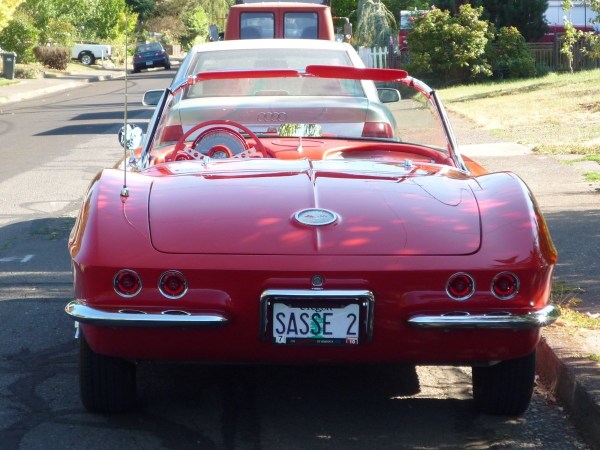 The C1 Corvette was nearing the end of its run, but at least it was injected with a burst of final-year energy, in the form of the brilliant new 327 small block. Now the Corvette had the best all-round performance engine in the world, and European exotic car manufacturers were lining up to buy it to power their Iso Grifos, Bizzarinis, and the like. But the original Corvette's time had run out, and in the fall of 1962 the new 1963 Sting Ray inherited the '62 Vette's tidy tail and the 327 but little else, to finally take its place among the world-class sports cars of the day.
Marilyn, sensing the end of her run, took another route. About the same time the last C1 Corvette ran off the line in St. Louis, Marilyn checked out for good. Some icons can be replaced; others not.