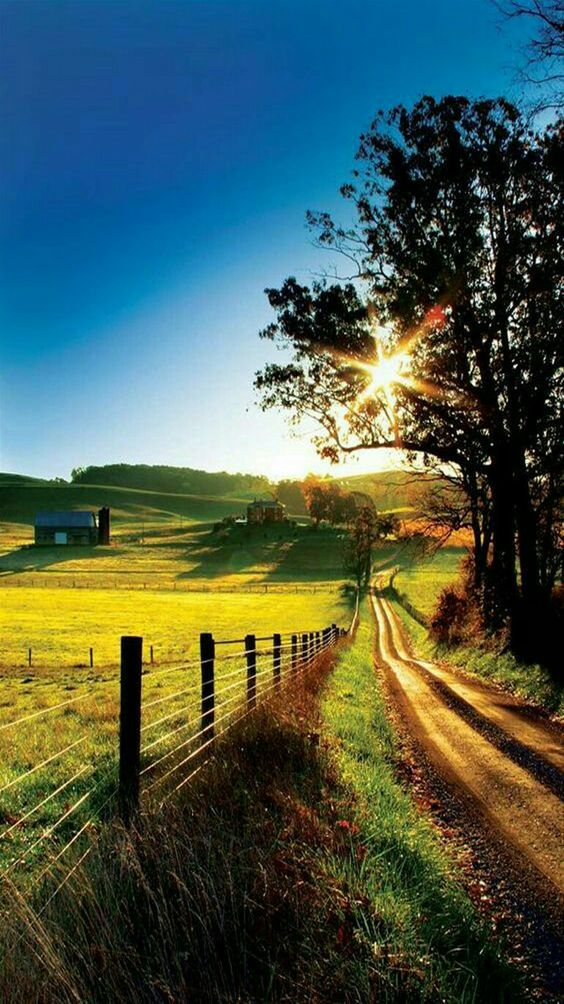 A BUSY DAY ON
MY GRANDPARENTS WERE UP BEFORE DAWN
LOOKING OUT THE WINDOW – THERE WAS NO DAYLIGHT,
THEY WORKED ALL DAY AND WHEN EVENING CAME
THEY WENT TO BED WHEN IT BECAME NIGHT.
THE SOUNDS OF THE MORNING
ON A FARM IS ALWAYS A BIG DELIGHT,
GRANDPA GRABBED THE MILK BUCKET, HEADED FOR THE BARN
THE SUN WAS COMING UP, BUT NOT YET VERY BRIGHT.
SEVERAL COWS WOULD BE WAITING FOR HIM TO ARRIVE
THE MULES ALSO WOULD BE STANDING VERY NEAR,
GRANDPA EMPTIED THE FEED INTO A WOODEN BOX
BUSY SOUNDS OF CHEWING WERE SO PRECIOUS TO HEAR.
GRANDMA ALWAYS WORE A FEED SACK APRON
IT WOULD BE FADED AND GETTING THIN,
APPLE PEELINGS, A FEW SEEDS, OR A BUTTON TO SEW ON
SHE USED THE POCKETS TO STORE ASSORTED STUFF IN.
GRANDMA WOULD BE COOKING BREAKFAST
MIXING DOUGH FOR BISCUITS SHE PLANNED TO BAKE,
SHE FRIED SAUSAGE, EGGS AND MADE A SKILLET OF GRAVY
THESE THINGS SHE KNEW GRANDPA ON HIS PLATE WOULD TAKE.
COFFEE WOULD BE BOILING
SITTING ON A BURNER IN AN OLD DENTED POT,
THEY LIKED TO MAKE THEIRS FROM COFFEE GROUNDS
POUR A CUP AND DRINK WHILE ITS HOT.
IN THE LITTLE GLASS BOWLS ON THE TABLE
WOULD BE SUGAR, EXTRA SPOONS AND JAM,
SOMETIMES GRANDMA WOULD FRY BACON
OR BIG SLICES OF COUNTRY HAM.
AFTER BREAKFAST IT WAS TIME TO HEAD
TO THE FRONT PORCH AND USE THE BROOM,
OUT IN THE FIELD THE CATTLE WERE MUNCHING GRASS
BEES WERE BUZZING 'CAUSE THE CLOVER WAS IN BLOOM.
IT WAS ALSO TIME TO GO TO THE HEN HOUSE
GRANDMA GATHERED EGGS AND LET THE CHICKENS ROAM,
HER DOZEN OR SO BIG FAT HENS LIKED TO CATCH BUGS
THE RED ROASTER WOULD STRUT, SHOWING OFF HIS STATELY COMB.
THE CHURN HELD THE MAKINGS OF BUTTER
LOTS OF HARD WORK LIE AHEAD,
THERE WAS NO TIME TO TAKE A NAP
THIS JOB MUST BE FINISHED BEFORE GOING TO BED.
THERE WAS A LARGE GARDEN TO PLANT
LONG ROWS THAT NEEDED SOMEONE TO HOE,
BEANS, CORN, CUCUMBERS, BEETS AND SQUASH
LOTS OF SEEDS THAT SHE WANTED TO SOW.
IN THE SUMMER THERE WOULD BE
LOADS OF CANNING TO BE DONE,
VEGETABLES, APPLES AND GOLDEN RIPE PEARS
SCRUB BOARD LAUNDRY DRYING IN THE SUN.
ALL THESE THINGS I REMEMBER
AS CHILDREN WE OFTEN DID PLAY,
SPENDING TIME ON MY GRANDPARENTS FARM
WE HAD ADVENTURES IN THE LOFT FILLED WITH HAY.
THOSE CHILDHOOD DAYS ARE OVER
IT'S NO LONGER THERE TO SEE,
A BIG WHITE TWO STORY FARM HOUSE
I HAVE SO MANY TREASURED MEMORIES.
Written by Adine Stephens Clark
Please follow and like us: